Attractive Openings and Graduate Research Opportunities
The Department of Aerospace Engineering, an integral unit of the Samuel Ginn College of Engineering, at Auburn University invites applications for Graduate Research Assistants and Graduate Teaching Assistants in Aerospace Engineering for the upcoming Fall and Spring semesters. The Department of Aerospace Engineering offers a stimulating graduate experience in a gorgeous campus setting and climate that are second to none. Students may enroll in a wide variety of graduate courses that prepare them for successful professional careers. Furthermore, Auburn University is strategically located in the aerospace propulsion corridor, located in the heart of Alabama, the national hub for Aerospace Engineering. Our mission and location provide our faculty and students with outstanding opportunities for collaboration with these national resources.
Presently, a large number of funded positions are available. These positions provide full student support with annual salaries ranging from $7,344 for 0.25 FTE (full-time equivalency) to $29,650 for 0.50 FTE depending on academic seniority toward the M.S./Ph.D. degrees and include tuition waivers for 0.33+ FTE. These stipends are among the highest in Alabama.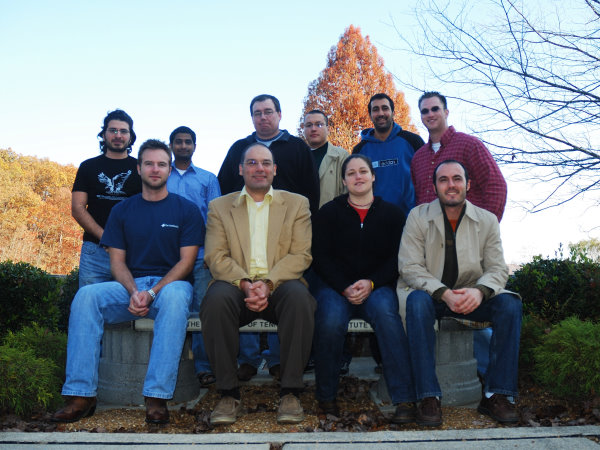 Auburn's Aerospace Engineering Department is one of the most prominent in the Southeast and, as time has repeatedly shown, has distinguished itself by the exceptional quality of its faculty and graduates. By representing one of the twelve original programs in the nation, its commitment to the aeronautical and astronautical sciences is marked by some of the most illustrious names in aerodynamics and space propulsion. Its long-standing legacy begins at the turn of the twentieth century and extends, quite magnificently, from the Wright Brothers to the Space Station, and from the Aeronautical Program that evolved under the leadership of Robert Knapp (1907), Volney C. Finch (1928), and B. M. Cornell (1934), to the Aerospace Engineering Department, which took off under the direction of Robert G. Pitts (1942). The department currently supports strong undergraduate and graduate programs in aerospace engineering (B.A.E., M.S., M.A.E., and Ph.D. degrees). Enrollment for Fall 2013 consists of 364 undergraduates and 54 graduate students.
Our current research projects involve exciting studies of advanced optical diagnostics, advanced propulsion concepts, combustion instability, missile trajectory reconstruction and optimization, orbital mechanics and astronautics, rocket design and performance, rotorcraft wake dynamics, spacecraft dynamics and control, swirl-driven combustion, and vorticity dynamics, etc. Some students are granted the opportunity to work on a project funded by a major aerospace contractor (Sverdrup, Boeing, Lockheed Martin, TRW, etc) at adjacent Department of Defense (DOD) facilities. Such positions provide practical experience to participants who may later settle with the prime contractor or one of its affiliates.
Pursuing your Master of Science or Doctorate degrees at Auburn University's Department of Aerospace Engineering is an excellent opportunity for advancement, both in your career and your pursuit of scholarship. Auburn University offers a well balanced graduate experience. Our students partake in a wide variety of graduate courses that prepare them for exciting research pursuits. Our graduate students are also active in research dissemination and participation in national competitions. In 2004, Dr. Majdalani's team presented 16 scientific papers at the 40th AIAA/ASME/SAE/ASEE Joint Propulsion Conference in Fort Lauderdale, FL, July 11-14, 2004. Among them, AIAA-2004-4054 received the AIAA Solid Rockets Best Paper Award! In 2010, Dr. Majdalani's team presented 20 scientific papers at the 46th AIAA/ASME/SAE/ASEE Joint Propulsion Conference in Nashville, TN, July 25-28, 2010. This led to an outstanding presence and numerous best paper nominations.
Between 2010 and 2013, Dr. Majdalani's team has been successful at securing five Best Paper Awards at the 61st–64th Southeastern Student Conferences. which were held in Destin, FL (2010), Tuscaloosa, AL (2011), Cape Canaveral (2012), and Raleigh, NC (2013) respectively. This four-year winning streak culminated in winning the Abe Zarem Distinguished Award in Astronautics and the AIAA Educator and Mentorship Award (2013).
Auburn University was chartered in 1856 and was designated as a land grant institution in 1872. The official Fall 2013 enrollment exceeded 25,000 students. Auburn University's Samuel Ginn College of Engineering, the largest and most prestigious engineering program in Alabama, produces more than one third of the state's engineering graduates according to the American Society for Engineering Education (ASEE). It has an enrollment of more than 4,000 undergraduates and 850 graduate students in eight departments. The research expenditures of the college have been ranked in the top 50 of the nation for the past seven consecutive years. The U.S. News & World Report recently ranked the college 30th among public universities offering doctoral programs, while its graduate programs were ranked 38th among public universities. With a dynamic and innovative research program, as well as twelve undergraduate and ten graduate degree granting programs, the college is recognized as a significant contributor to the region's economic development and industrial competitiveness.
The Samuel Ginn College of Engineering at Auburn University offers degree programs not only in Aerospace Engineering, but also in Mechanical Engineering, Biosystems Engineering, Chemical Engineering, Civil Engineering, Computer Science and Software Engineering, Electrical and Computer Engineering, Industrial and Systems Engineering, Materials Engineering, Polymer and Fiber Engineering, and Wireless Engineering.
To apply online, please visit the Graduate School's website at: http://www.grad.auburn.edu/
For additional information on available projects, please feel free to contact: